RoR Championships 2017
From Tuesday 22nd of August to Sunday 27th August
Welcome to The RoR National Championships 2017 at Aintree International Equestrian Centre
Date: Tuesday, 22 August, 2017 to Sunday, 27 August, 2017
Start time: 07:00
Closing date: Tuesday, 01 August, 2017, 23:55
Short event summary
| | | | |
| --- | --- | --- | --- |
|  Day |  Date |  Category | |
|  1 | 22 August | DRESSAGE | Intro and Preliminary Classes |
|  2 | 23 August | DRESSAGE | Preliminary and Novice Classes |
|  3 | 24 August | DRESSAGE | Novice to Freestlyle Music |
|  4 | 25 August | SHOWJUMPING | |
|  5 | 26 August | SHOWING | |
|  6 | 27 August | CHAMPIONSHIP FINALS | |
May
28
Tue
Susie Gibson Showjumping Clinic

@ Aintree International Equestrian Centre
May 28 @ 12:00 pm – 8:00 pm
Event name: Susie Gibson Showjumping Clinic 
Equestrian event type: Showjumping Clinic
Status: Going ahead
Online entries OPEN
IMPORTANT NOTICE –  As per our terms and conditions, all horses attending the Centre must be fully up to date with annual vaccinations, and must not have had any vaccination in the 6 days prior to attending.  Checking of passports will continue at all forthcoming events. Please ensure passports are available for inspection.
A fantastic opportunity for a private lesson with top showjumping coach Susie Gibson, UKCC Level 3 Coach, Educator and Assessor. Lessons open to all levels. An opportunity not to be missed. (£20 deposit secures your place, £30 to be paid to Susie on the day)
Slots available from 12pm – 8pm on a first come first served basis.
All bookings to be made online by following the link below:
Aug
22
Thu
RoR Goffs UK National Championships 2019

@ Aintree International Equestrian Centre
Aug 22 @ 8:00 am – Aug 25 @ 10:00 pm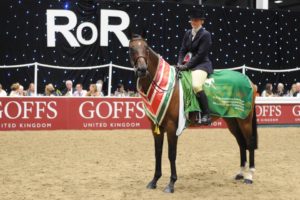 NATIONAL CHAMPIONSHIPS 2019
Aintree Equestrian Centre and Aintree Racecourse are delighted to once again be hosts to the Retraining of Racehorses National Championships, generously sponsored and supported by Goffs UK.
Information regarding the event will be posted on this page as announcements are made by RoR.
We expect the schedule to be available in the next week and a link will be posted on this page.
NOT LONG TO WAIT NOW…………
Nov
12
Tue
The Dodson & Horrell National Amateur & Veteran Championships 2019

@ Aintree International Equestrian Centre
We are delighted to announce that Aintree International Equestrian Centre will once again be hosting the National Amateur And Veteran Championships and these will be held on the
12th to the 17th November 2019
WATCH THIS SPACE FOR FURTHER INFORMATION AND
FOLLOW US ON OUR SOCIAL MEDIA PAGES
STABLES, ENTRIES, ACCOMMODATION etc
These will be open to book on the same day. This will be AFTER our Premier Show in October, date to be confirmed.
Stables and accommodation will be on a first come, first served basis.
SCHEDULE
The schedule is being worked on now and we will release the schedule classes once the BS have approved it. This does take quite some time, so please bare with us. We will announce on here when this is available, which will be before we open up the entries.
There will be plenty of classes for everyone. So if you are trying to book off time at work, we advise competitors to book the whole week. It is a Championships so we try and have something for everyone (as long as you have qualified for the show).
ONLINE ENTRIES AND STABLING
This will be done via Horse Monkey, please ensure that you are registered with them or if you have registered before, check you can log in ok. This is now the ONLY way we will accept entries and stables bookings for this show.
We are a very busy venue and we have a lot of other events on before the champs, so please try and be patient…. we know how excited you all are!
Thank you and further updates will be available later in the year – in the meantime good luck in qualifying and we look forward to seeing you all at Aintree.