RoR Championships 2017
From Tuesday 22nd of August to Sunday 27th August
Welcome to The RoR National Championships 2017 at Aintree International Equestrian Centre
Date: Tuesday, 22 August, 2017 to Sunday, 27 August, 2017
Start time: 07:00
Closing date: Tuesday, 01 August, 2017, 23:55
Short event summary
| | | | |
| --- | --- | --- | --- |
|  Day |  Date |  Category | |
|  1 | 22 August | DRESSAGE | Intro and Preliminary Classes |
|  2 | 23 August | DRESSAGE | Preliminary and Novice Classes |
|  3 | 24 August | DRESSAGE | Novice to Freestlyle Music |
|  4 | 25 August | SHOWJUMPING | |
|  5 | 26 August | SHOWING | |
|  6 | 27 August | CHAMPIONSHIP FINALS | |
Sep
22
Sat
NEDZ Autumn Spectacular Showing & Working Hunter Show

@ Aintree International Equestrian Centre
Sep 22 @ 8:00 am – Sep 23 @ 8:00 pm
Category: Showing and Working Hunter
Entry Form: Pre entry only
Status: Online entries OPEN
Start time: 8am Saturday, 9am Sunday
Judges:
Inhand  – Mrs H Starkie
Ridden Ponies – Mr G Dunkley
Ridden Horses – Mrs S Bowling
WH Ponies – Mrs T Brooks
WH Horses – Mr R Avery
TSR Judges: Mrs C Collier, Mrs G Cowell, Mrs B Calderbank
ONLINE ENTRIES CLOSE THURSDAY 20TH SEPTEMBER – THIS IS STRICTLY A PRE-ENTRY SHOW
NEDZ Indoor Showing Series
Aintree International Equestrian Centre
Current Leaderboard after 3 shows
Rider
Horse
Total Points
Kathrene Ellen Quirk
Barton Mere Taskers Tilly Mint
76
Overall Leader & In Hand Leader
Siana Lithgow
Roseberry Ruby Wedding
60
Jessica Carney
Oakmoor Catwalk
56
Nichola Pouncey
Songbird Samson
54
Fiona Worrall
Bogbank Ben
52
Millie Jayne Clowes
Here's Johnny
50
Katherine Bowling-Hartenfeld
Ruby Rose of Strathmore
48
Working Hunter Pony Joint Leader
Sonyarisa Duckhouse
Chestermann Dandy
48
Working Hunter Pony Joint Leader
Laura Carney
Wadacre Benedict
48
Denise Morrill
Dam Smart
46
Ridden Horse Leader
India Richmond – Pinnington
Maesmynis Tywysoges Edina
44
Katherine Bowling-Hartenfeld
Cree Marvin
42
Charley Quinn
Annora
40
Jessica Carney
Oakmoor Showgirl
38
Harrison Fewings
Telynau Hotshot
36
Ridden Pony Leader
Rebecca Brown
Pennrad Masterplan
36
Samantha Cumbers
The Pass Bus
34
Keren Keenan
A-Silverstone
32
Working Hunter Horse Leader
Claire Roston
Tevenie Sunshine
32
Jo Ainsworth
Millfield Cassidy
28
Rachel Wood
Charona Z
28
Joel Higham
Sir Earl Grey
28
Sandra Zachary
Ballyshanick Hilton
28
Dannii Thexton
Allied Answer
28
Michelle Bowley
Colour Graphix
28
Mistie Hughes
Blaze of Glory
28
NEDZ Showing Series Finale
The schedule for the final show in the series will be online soon – please watch this space. We will also be publishing the leaderboard shortly, with the section winners and the overall winner being presented at the show.
We are thrilled to announce that NEDZ are now the title sponsors of our Indoor Showing Series. 2018 will see four shows across the season plus a new points system – so get the dates in your diary!
Nedz Winter Warmer Showing & Working Hunter Show – 24th & 25th February 2018
Nedz Spring Spectacular Showing & Working Hunter Show – 26th & 27th May 2018
Nedz Summer Spectacular Showing & Working Hunter Show (NEW SHOW) – 28th & 29th July 2018
Nedz Autumn Spectacular Showing & Working Hunter Show – 22nd & 23rd Sept 2018
Alongside the introduction of a new show at the Aintree series, next season will also see the start of an exciting points awards competition with the overall winner receiving a selection of branded Nedz goodies, alongside a lesson with one of our sponsored riders.
The points system for the competition will be awarded in each class as follows:-
1st – 10 points
2nd – 8 points
3rd – 6 points
4th – 4 points
Horse/pony and rider combinations will be awarded points which will be accumulated at each show that they compete in. A leaderboard will be produced at each show with the overall winner announced at the end of the Nedz Autumn Spectacular Show in September.
There will also be section winners from the In Hand, Ridden Ponies, Ridden Horses, Working Hunter Ponies and Working Hunter Horses. Points will be accumulated from each show and the winners from each section will be announced at the end of the Nedz Autumn Spectacular Show
Oct
20
Sat
STARS Champion of Champions event

@ Aintree International Equestrian Centre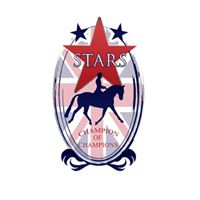 STARS CHAMPION OF CHAMPIONS
To be held at Aintree Equestrian Centre on 20th & 21st October 2018
Stabling, electric hook up and hostel accommodation is now available for booking online, please click below:
IMPORTANT NOTICE RE STABLING: ALL HORSES ENTERING THE STABLES MUST BE FULLY VACCINATED AND PASSPORTS PRESENTED FOR INSPECTION. THEY MUST BE 6 DAYS FREE OF ALL VACCINATIONS PRIOR TO ARRIVING. ENTRY WILL BE REFUSED IF THIS IS NOT ADHERED TO, NO EXCEPTIONS.
ADMITTANCE TO THE STABLES WILL BE FROM 3PM EACH DAY AND YOU MUST VACATE YOUR STABLE BY 3PM ON YOUR DAY OF DEPARTURE. ALL STABLES MUST BE VACATED BY 10AM AT THE LATEST ON MONDAY 22ND OCTOBER. 
More details to follow but please see the vision below, from the show director, Sarah Harrison:
"STARS Champion of Champions are going to re-create a HOYS experience for all RC/PC competitors which will be held at Aintree Equestrian Centre, Aintree Race Course, Liverpool on 20th and 21st of October 2018!
No other show has ever tried to create such a prestigious event from start to finish for Riding Clubs until now – where the best of the best go head-to-head to be crowned Champion.
This experience doesn't just mean the time you walk through those curtains and compete in the ring.
We promise to give you everything from bridle numbers to working-in time slots in the main arena and culminating with trotting down the centre line on your lap of honour.
We will only invite HOYS star judges to preside over classes and all Ridden and In-hand showing classes will be judged using the HOYS-style format of 50 marks for Ride/Show and 50 marks for Conformation/Way of Going. Equitation and Young Handler classes will have their own marks systems in place as well.
Over 50 Riding Clubs and Pony Clubs from all over the country have enquired about how to affiliate to STARS; we hope this will grow year on year.
HOYS themselves have been in touch to say they think that this is a wonderful idea which really aims to put Riding and Pony Clubs firmly on the map!
We have been contacted by some fabulous equestrian magazines offering to cover the event; and we already have some amazing sponsors on board. If anyone would like to support this event through additional sponsorship we do have classes available.
So how do you qualify? It's simple -all affiliated clubs will send their end-of-year points winners to the grand finale to compete for the title of Overall Champion of their section. Qualification can be passed down to the Reserve or Second Reserve Points Champion if and Points Champion is unable to represent their club. Those lucky enough to qualify will receive their qualification in the form of a Golden Ticket.
All affiliated Clubs will also be competing for the honour of being crowned Supreme Riding club of the Year title which will be awarded to the Club gaining the best results across the Show. To make it fair for all sizes of Clubs we will take your top 10 section results to work out the Supreme titles. There will be a large cash prizes up for grabs being split between the Supreme, Reserve Supreme and Second Reserve Supreme Clubs. We are also offering training days and numerous other prizes to make things interesting for all.
My aim is to give all riding Club and Pony Club competitors something to aspire to – like I once had at Birchinley Manor all those years ago!.."